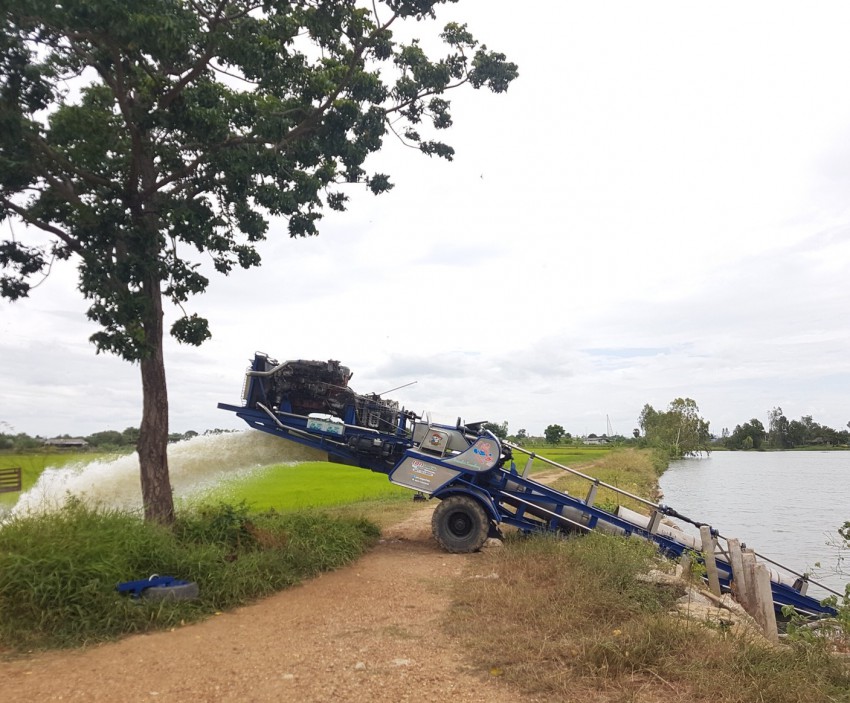 Thanyalak Srisanga
On October 10, 2018, it will be 3 months that the 13 members of a junior football team and a coach who had been trapped in Tham Luang Cave, Mae Sai District, Chiang Rai Province were rescued safely. Throughout 18 days of the rescuing mission, Thai society has seen the power of cooperation and the power of volunteering flowing from all over the world.
Amidst the cooperation, there is one interesting issue, that is, the power of social media.
Not only it does have arole in providing information, creating awareness, and being a central area of coordination, the power of this medium also makes a difference in the person itself.
Moral Promotion Center (Public Organization) had an opportunity to interview 2 cases of volunteers in the Tham Luang Cave rescuing mission. The first case is the Zing Water Pumping Team Nakhon Phathom- Ban Phaeo, Samut Sakorn consisting of Mr. Thawatchai Foongkajorn or Khun Jo, Mr. Eakachai Saeteaw or Khun Eak Zing Pumping Pipe, and Mr. Atthapol Sriyu, member of Zing Water Pumping Team of Pop Ban Phaeo owned by Mr. Panom Cheun-pirom. The second case is Ms. Rawinmas Luelert or Khun Prem, the owner of Miss White Clean Laundry, Chiang Rai Province who helped cleaning the clothes of the staff in Tham Luang Cave rescuing mission. The story of volunteerism in these two cases has an interesting mutual issue that reflects the power of social media supporting the volunteer work.
In the case of the Zing Water Pumping Team Nakhon Phathom- Ban Phaeo, Samut Sakorn, when they heard about the news of the 13 members of a junior football team and a coach trapped in Tham Luang Cave, Mr. Eakachai posted a message on a social media on June 25, 2018 stating that their team was willing to help pumping water out the cave free of charge if there was a support on the transportation fee.
| | | |
| --- | --- | --- |
| | | |
This intention has finally been fulfilled on 29 June 2018 when 9 members of Zing Water Pumping Team with 4 water pumps were transported to Tham Luang Cave under the cooperation from many sectors such as Mr. Panom Cheun-pirom, one of the team member who went there in advance to explore the area, trailer entrepreneurs, local leaders both from Nakhon Phathom and Chiang Rai Province, together with officers who facilitated along the way. The team joined the rescuing mission until 10 July 2018 which was the day when the mission was completed after rescuing 13 members of junior football team and the coach together with the staff safely out of the cave.
"I posted on the Nakhon Phathom News website on June 25, 2018. There was a lot of sharing. People called saying that if they were small pipes, do not bring up there as there was more than enough. I said that the pipes were huge and could pump the water easily. When we started working, they walked toward us saying that the water level subsided. We were so overwhelmed with joy and could continue working."
In the case of Ms. Rawinmas Luelert or Khun Prem, the owner of Miss White Clean Laundry, she used social media in following up the news and this has inspired her in joining to help in this mission. She started off by responding to the requested on the media and later leading to the idea of finding a model of self-operation in her expertise which is the laundry.
| | | |
| --- | --- | --- |
| | | |
"I am living here in the local so I could receive internal information. I could access to the news of what the Rescuing Team wanted from Mae Sai Community Facebook Page which was a reliable source of information. One day, there was a post requesting fried pork with sticky rice for the staff as it was convenient for them to carry along. So I asked my friends in Line Group to buy them. However, in the evening, there was another post to cancel the previous request as they have received too much fried pork with sticky rice. When there was another announcement requesting for batteries, I started to think that if I donate the money, I could buy few batteries. I then thought of helping in what I could help which was doing laundry. I posted on my Facebook that I would do the laundry and washing for free for the staff and I coordinated with the head of the rescuing team to promote the free laundry service to staff in all sections and to everyone helping with the rescuing mission. After the announcement, no one contacted me. After that, there were many people sharing my post. People gave away my phone number and there were people help with coordinating. In the evening, Border Patrol Police Officer contacted me and said that they would like to use the laundry service. After doing the first laundry job for the rescuing team, I got a chance to talk to the reporters and there were some news. Since then, people gradually used our service."
The power of social media is the medium leading the Zing Water Pumping Team and Khun Prem to join the volunteer for this mission and to use "the good deed capitals" one possesses which is their special expertise to support the mission. And with many consecutive days, this volunteeringwas a test of both physical and mental fitness at the same time.
Mr. Thawatchai or Khun Jo described the work of Zing Water Pumping Team as "If you think that finding the boys then it is finished, it is not. Because after finding the boys, we need to pump out the water so the staff could rescue the boys. Also do not forget that after finding the boys, we need to stay and continue with the pumping work so as to maintain the water level until the last boy came out."
Khun Prem described the continuous laundry mission for several days as "
"I got the most clothes of around 150 people. One person has many laundries with the lowest number of 2 pieces per person and the highest number of6 pieces per person. The person who washed these clothes was my three subordinates.They knew how to handle them well. They had skills in this. The procedure was not complicated. After10 days of operation, I gathered everyone for a talk. I apologized to every one of them as I do not think that the task would be this hard and tiring. I had a chat with both friends and other volunteers. I offered to pay them overtime pay. But they all refused to accept it. The reason they gave was that they had helped from the beginning and there was not much work left to do. As for the friends who volunteered to pick up clothes from the city, they also refused to accept the money for the gasoline. However, weinitiated a new management system.We adapt ourselves to work, not the work itself. We have managed to pass through the situation and this made me very proud of it. On the day the Wild Boar team all came out of the cave, everybody was relieved. The work was done until both all local and foreign units return from the area. "
If we consider from the interviews, we can notice that the Zing Water Pumping Team and Khun Prem have a volunteering heart. From how they work, it looks like they have had a volunteering work experience before. However, after discussing with them, I found out that Tham Luang Cave rescuing mission were their first volunteering experiences for both cases.
Khun Prem reflects on the feeling of volunteering for the first time requiring both physical and mental strengths together with a great deal of planning and managing as:
"I have never helped the society like this before. I have never do things like this. I have never participated in the volunteer camp. The most I did was just to donate money. But for this incident, it happened when I didn't have much money. I would like to help and I never thought that I could help this much. My feeling is that if those staff could bear with it, they will not ask us to help. They seemed to be very considerate and did not want to disturb us. What we receive in return cannot be described in word. We have never worked like this. We helped those who really need help. "
Mr. Atthapol, one of the members of Zing Water Pumping Team talked about this mission as "It was the first rescuing mission that I was very proud of. I was talking to my team and we have seen the news for many days. People still don't know how big of water pumps we have. From the news, I noticed that the water was pumped out very little. There was no sign of draining the water. The area was large and it was raining. I believed that our team had the potential and could help in that part so we decided to go. We knew our potential and limitation and there was a place for us to work, so we think that we could help more or less and the result was far beyond what we expected."
Tham Luang Cave phenomenon, thus, is a phenomenon drawing the power of humanity of those having sympathy towards one another and those who wish the best for others and show this in a concrete picture through a variety of operations and activities with social media is a tool to support. Social media acts as both a channel for people to do good deeds in their own way, a link for coordinating, and a spreading of the good stories toa wide society.
In addition, the experience of volunteerism has also created a change in the spirit of volunteer himself and has become a momentum to inspire to do the next good deeds.
The Zing Water Pumping Team reflects on the Tham Luang Cave rescuing mission as:
"It was a great event for us to join and to help with a success. We have never known one another. We went there to pump out the water. When coming back, there were many organizations coming to praise us. What we did, we expect nothing in return. We feel overwhelmed that we had accomplished this mission. We had never thought about hundreds and thousands of people were gathering around and admiring the pumps. I was impressed with the hospitality and kindness of the Thai who never abandons one another. They did whatever they can to help. They helped each other in all they could by donating money or needed things, they grouped together to help. I would love to see Thai society being this supportive and being in harmony like this. It was an inspiration for more good deeds. When doing good things, our family and those we know feel good with us."
After helping with the Tham Luang Cave rescuing mission, Khun Prem continues to be a volunteer to help with the flood victims in the Lao People's Democratic Republic. "In the Laos flood event, we asked for donation. Everyone was ready to help. We take ourselves as a central point to get donations and pass them forward. We postedon Facebook. We also went to Laos to help. We went into the area to see the real situation and bring the donated things there. "
Upon being asked to define the word "volunteer" from the view of Zing Water Pumping Team, all 3 members mutually defined it as "helping other without expecting anything in return. What we get in return are smiles and happiness of those we help".
While Khun Prem stated that:
"Everybody can do it (volunteering work). It all depends on how much physical and mental strength are we willing to give and are we ready to do it or not. The farmers who sacrifice their rice field and let the water pumped out of the cave to flood their fields are also volunteers. My friends who are civil servants can also come and help. Being a volunteer is not being forced to do it. If it was forced then you will feel very tired. Volunteering needs to make us happy. Being forced to do thing is not volunteerism. It needs not exhaust you. Do not force yourself. We do it and people thank us, we feel happy. We do it voluntarily as we know our own limitation and our strength."
The story of the Zing Water Pumping Team and Khun Prem reflects the trend of volunteerism that has evolved alongside the increasingly important role of social media in the digital platform age. If we view it from the higher level of Tham Luang Cave phenomenon, the path for the driving force for volunteerism to respond to today's society is to use the power of media both as a channel to access volunteer activities and a channel to pass on the good stories of those activities to motivate others to be volunteers in the society more and more.
References:
-Mr. Thawatchai Foongkajorn, Mr. Eakachai Saeteaw, and Mr. Atthapol Sriyu: Zing Water Pumping Team Nakhon Phathom- Ban Phaeo, Samut Sakorn (Interviewed on August 8, 2018)
-Ms. Rawinmas Luelert (Interviewed on August 16, 2018)