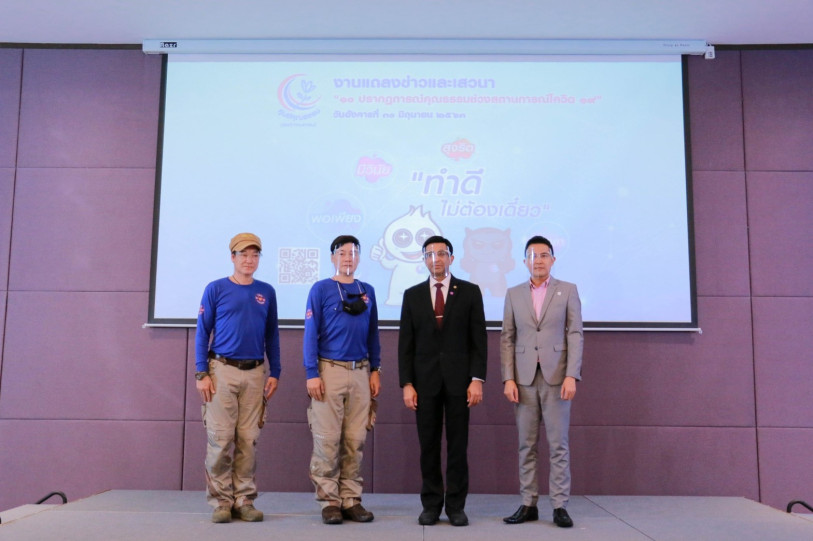 The Moral Promotion Center (Public Organization) summarizes ten moral phenomena displayed by Thai society during the COVID­19 outbreak. Throughout the pandemic, the morals of Thai citizens have continuously led Thailand to the World Stage.
Associate Professor Dr. Suriyadeo Tripathi, Director of Moral Center Thailand, brings to light some moral actions that have arisen in Thai society during the COVID­19 outbreak. Despite these hard times, the attitude of Thais and the events initiated by them are highly recognized and respected worldwide. The Moral Center of Thailand has consistently kept track of these actions and behaviors between March to May of 2020, and has compiled them as follows:
First: there is a collective effort to stay home to prevent the further spread of the disease. Furthermore, Thai citizens effectively cooperate with healthcare professionals, sympathize with them, and even give them support regardless of the stressful situations. This demonstrates the power of a unified nation against a common disease threat.
Second: there are numerous volunteers who, despite the hardships that they must face, are willing to work to help prevent the spread of the disease, to give others information about the pandemic, and to resultantly spread the volunteer spirit throughout the community.
Third: donations of food and belongings of individuals, organizations, government agencies, private organizations, artists, and celebrities with the highlight of exchanging rice and fish from two different regions of Thailand. This exchange helped send excess food from one place to another while resulting in mutual benefits. This demonstrates Thai's value for living sufficiently.
Fourth: the creation of the now famous "Happy Pantry" by a group called The Little Free Pantry . The "Happy Pantry" includes nation­wide accessible cabinets where foods and drinks are stored. Anyone in need is free to access the "Happy Pantry".
Fifth: the use of digital media as a medium of sending encouragement in the form of music or video clips. These pieces can then spark positive energy and optimism to people in any field of work and at any place, from locally to internationally.
Sixth: Thailand and its citizens rank first amongst ASEAN countries in having discipline and responsibility according to the preventive measures. These measures include adhering to social distancing, washing hands, wearing face masks, and checking in using the "Thai Chana" contact­tracing system to help prevent and alleviate outbreaks.
Seventh: a new normal forms as citizens begin adapting their behavior according to recommendations by healthcare professionals. This also includes mass media communication and technologies that help to create innovative jobs. However, there are some actions made by Thai communities that are harmful, such as,
Eighth: the stockpiling of goods.
Ninth: the dangerous violation of the emergency decree.
Tenth: an ineffective management system for dealing with COVID­19 contaminated waste
Associate Professor Dr. Suriyadeo Tripathi further states, "Despite the worrisome occurrences that have arisen, the COVID­19 pandemic has instilled worthwhile values in people of all ages, genders, and statuses. If these beneficial habits persist until they have amalgamated into our values, they will result in the betterment of our society as a whole, improving Thailand's morality. Traits and actions such as living sufficiently, having discipline, acting honestly, and having a volunteer­spirit will have a positive impact on Thailand's economic and social conditions. These traits and actions will help Thailand to stand and stay on the World Stage."
---
Translated English Version : Victor Djasli Phisitkul
News : Center for Morality Promotion (Public Organization)
Photo : Center for Morality Promotion (Public Organization)