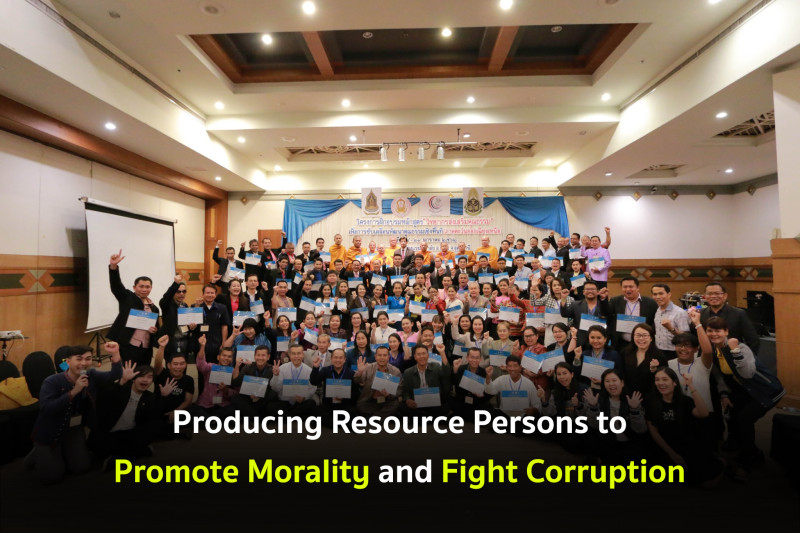 The Moral Promotion Center, a public organization under the Ministry of Culture, has joined forces with the Religious Affairs Department and the National Anti-Corruption Commission in organizing training programs to produce resources persons in order to promote morality and fight corruption.

From January to February 2019, a total of 469 persons from 390 organizations attended the programs, which were carried out in the four regions of the country.

In the North, the training was conducted in Sukhothai province. In the Northeast, it took place in Udon Thani. The training in the central region was held in Ayutthaya, while that in the South was conducted in Nakhon Si Thammarat.

According to the Moral Promotion Center, these programs focused on awareness-raising against corruption and the creation of moral promotion networks to reduce corruption and malfeasance. Participants in the programs were provided with more knowledge and better understanding about corruption intolerance, as well as the organizing of campaigns and activities to promote integrity and combat corruption.

The programs came into being after the Moral Promotion Center and the National Institute pf Development Administration (NIDA), jointly conducted a survey in 2016. Respondents in the survey, called "NIDA Poll", cited corruption as one of the most critical issues in society.

Anti-corruption policy has been included in the 20-year National Strategy, which is also in line with the National Anti-Corruption Strategy, Phase Three (2017-2021). The Moral Promotion Center has, therefore, joined hands with relevant agencies in producing resource persons to help in the anti-corruption drive.
Ref.:https://thailand.prd.go.th/ewt_news.php?nid=7770&filename=index